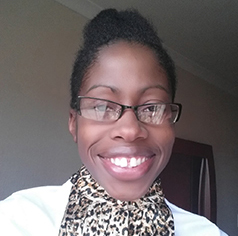 Soooooo…………
If you look in the image on the left you can see something verrry different. The locks are gone! I know you may be asking why, and if I have gone mad but, it was time for a change. I had always wanted to try the natural hair thing at a reasonable length other than dreadlocks so I finally made the decision and took the tedious time of combing out my locks one by one. Since I had the time I figured why not blog about it, so here goes.
I started the process on Monday evening and was finally done late the Thursday night. So it took roughly 4 days including the many breaks involved with working out, T25 style, dealing with my two munchkins since of all weeks their school was closed due to severe flooding (You guys back home were having a Snowpocalypse while we were having a Rainpocalyspe). Anyway, here are some photos chronicling the journey (my fingers are already cramping since they are so fatigued). Thanks to all the other youtube videos and blogs that gave very helpful tips to get through the process.
Tools for the job: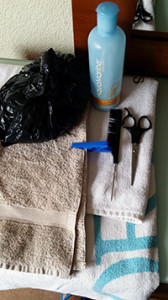 Large towel – This is to cover the area where I was sitting since there was hair everywhere!
Small towel – To cover my shoulders so as to catch the dripping water, dirt, hair etc. I used the clothes-pin to hold the towel around my neck.
Cup – Forgot to include this in the picture. I put warm/hot water in to dip my locks in to make them softer.
Scissors – I found that when I snipped the very end of the lock before starting it helped me get the combing out process started easier and faster.
Conditioner – Just a cheap conditioner I found to make the hair slippery enough to untangle. I added some of my daughter's detangler to help out.
Bag – I was shedding a lot of the dead hair I accumulated while growing my locks so a bag was very handy to just toss them in.
Tail comb – I used this to pick away at the hair to undo it then would flip it to the comb part every now and then to come through the hair. Wish I had a very small fork cause that would have worked even better since it has more teeth.
And there you have it! Now all I need to do now is find some natural hair products here in South Africa. All I can seem to find is hair oil and vaseline. SMH! Trekking it down to Pretoria CBD and hopefully I will find something. Wish me luck!