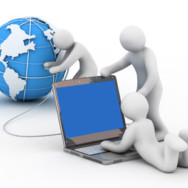 Eta Friends, Ninjani?
I hope you're well, I must pause and say thanks for coming back to see what i've got to say this week on the blog – Siyabonga Kakhulu!
So as you may know I'm an Information Technology Professional and my lovely wife Kanique is as well, so what do you think is the first thing we wanted to secure after moving to South Africa?
Need some time to think….
…times up – the answer is Internet! We live our lives on the web for both personal and business reasons so we wanted to know what all the options are so we could make an informed decision quickly to minimize down time.  We were astonished to find the options were slim to none at least in the context that we were used to.  In the states we had Comcast Broadband for internet (because Verizon FiOS kept pushing back their installation date for our area – right Henry?) and it worked well, here is an example of how our home network was setup:
We had a Cable Modem or DSL Modem feeding your Wireless Router and everyone had access to the internet.  Worked very well for us, i'm sure all the US based readers are very familiar with this setup and probably this is still the most common home internet solution in use even today.  We searched for providers here in South Africa that could offer us what we were used to but found none – let me hassen to add that this isn't because the providers here dont have similar services but mainly because of the area we live in, it's a fairly new community and there was never any lines run to the houses for phone, internet, etc.  So we begun asking our neighbors what they were using and we found that most were going into the office to access the internet or used the data plan on their mobile phones – which for us was unacceptable.  We did find two neighbors who were using a 3G USB internet device so we eventually broke down and bought one but that was only good for one machine at a time which was only going to temporarily fix the problem for us.  From August to December we suffered with this solution until we accidentally came across this device – Huawei B660 – a 3G Wireless Gateway, it's a wireless router that has a slot for a SIM Card that it uses as a source for internet.  Here are some example pictures of the device:
Couple this device with a Data Plan from a local wireless provider called 8*ta where they offer 10 GB of data per month for 200 Rand (appx 25USD) for 24 months and we finally had a solution to our home internet problem.  I have since found that this device and this solution is also available in other parts of the world just not very popular given the other options that are readily available.  It's also interesting to note that this solution was there all the time but because of our context and what we were used to we weren't looking for it.  This solution is one of necessity for the area we live in and you'll also be interested to know that the device is 4G compatible and the speed allows Kanique to continue her web design work and makes it possible for me to do web-based support from home.  We also have a home phone that is also SIM Card based so we only plug it in to charge it but we can take the phone with us anywhere we go – its basically a cell phone with a full phone body, LOL.
As technology continues to progress especially in the wireless and mobile solution arena it will have interesting effects on how we live.  Countries/Companies that didn't jump on the TechWagon say 10 years ago will have some unique choices to make when it comes to deciding what infrastructure to implement – in some cases they might even be able to skip the whole CAT5 and CAT3 installations, Network Closets with tons of cabling going all over the building, and actual phone handsets.  They can choose to go with a completely wireless setup and use soft-phone solutions like Bria which can be installed on their desktop, laptop, or SmartPhone for office use.  There can be advantages to being in countries that haven't fully come up to the Tech standards of the States because you just might be a candidate for skipping over the older infrastructure and implementing whats current – well thats my view, what do you think?  Please leave your comments below.
Until next time friends,
Hambani Kahle!