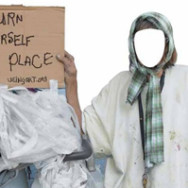 what does Service mean to you?
That's the question that I pose today and I pose it to myself first before I pose it to you. In the last 5 years we've seen natural disasters on a scale that was once unimaginable but did you know more people are dieing from the lack of clean water than all of these disasters combined?
Here is one pastor's testimony…
I think what he said is excellent and a coordinated approach to the world-wide issues we have is definitely appropriate but do you really have to go that far? For those of us who have been desensitized by everything from the constant reports of disasters great and small to that man you pass everyday with his sign saying "will work for food" what is our motivating factor? I personally believe that having an attitude of service isn't something you can turn on and off like a light switch you have to cultivate it. Though many of us would much rather fly over to Japan to help out with those suffering after this great disaster I think that desire is fueled more by the publicity of that event or by the credit we would get from saying I went there after the Tsunami – then from a genuine concern for your fellow man, a genuine concern for the hurting, hungry, or destitute. If you truly had that concern cultivated within you then how can you pass by those in your own neighborhoods, on the streets you walk and drive everyday and do nothing – what would have to happen or what would need to be said to propel us to act?
This video alone wont move you to action, this post wont move you to action, it has to be a mindset change, a paradigm shift, an undoing of all those years of resisting. It has to come from a deep understanding that but for the grace of God that could be me…
So i'll ask the same question we began with:
what does Service mean to you?