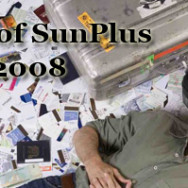 In July of 2008 I went on my first SunPlus implementation to Hosur India!
I flew from BWI to JFK to Mumbai to Bangalore where I was picked up and driven to Hosur where the Southern Asia Division (SUD) office is located.  This was the first of many such trips and I learned a lot about travel in this one trip.  (ask me about the travel stories later) What I remember best about this trip was the difference in culture – prior to going to India I had only been to the Caribbean and to Tahiti two very similar cultures but India was all together different.  The little kids all called me Uncle even though they had never met me before, they only shook hands with the right hand (never the left…), they sometimes ate with their hands, they have a very intricate cast/class system, the driving is much like Jamaica but probably 10 times more intense and crazy ( you'll see what I mean in the video), but overall they are super respectful which probably impressed me more than anything else though the food was absolutely off the chart.  Here are some pictures from this trip…
The main language spoken in this area is Tamal which I didnt pick up at all in the 2 weeks I was there.  I was asked to speak for 3 different programs I accepted 2 and turned down the 3rd but it was an awesome opportunity to share my experience in a different land.  What is truly amazing is that even though their culture is very different than my own one thing we had in common that kinda bound us together as brothers was our belief in Jesus and our blessed hope that he will return soon to take us home.  I'm still working on putting together the videos I took while there so you'll have to come back to see that…
That's all for India lets see where my SunPlus Adventures will take me next!